Or, less than £30 if you're in the UK like me (...and that's £29.18 to be exact!)
You want to set up a jewellery business, but you don't want the risk of putting lots of money into something before you start making a profit, do you! In this 'example business', we're going to start a polymer clay jewellery business with less than 30 pounds - and you'll be making money before you invest any more money! The money you make from the business is what you can reinvest and watch your business grow.
I've had so much fun watching my own Etsy business grow, and one of the things I'm most proud of is how I never sunk a lot of money into my business before it started making profits.
I run
Coryographies
, where I make jewellery out of wood and polymer clay (such as Fimo or Premo), which are relatively inexpensive materials, but really versatile too. But along with that there is also glue, jewellery findings, paintbrushes and paints, varnish, pliers, shaping tools, business cards, stamps, envelopes and packaging supplies. It can easily add up when I'm getting greedy on eBay and stocking up.
For start up costs, one could also factor in a desk to work at, a digital camera for pictures to upload, a computer and an internet connection - but for this I'm going to assume that you already have access to these things(!)
I want to share how you can easily purchase all the things you need to start making and selling (in this case, some polymer clay jewellery), that will set you off on the right track, and will turn a profit before you need to replenish anything, so you aren't taking any big financial risks with starting a business!
The Shopping List
So lets begin with our first eBay shopping list. All prices are in GBP, but there will be equivalents in your own currency I'm sure :):
=£27.94!
(prices above include shipping)
*Tip: buy locally so that items arrive fast and there is more of a chance of getting free shipping!
(You might be tempted to buy your supplies at Hobbycraft or a craft shop, but chances are eBay is cheaper. For experimenting, buying a small amount from a craft shop is ok, and you get to see the product and know exactly what you are buying, but after this it's cheaper buy in bulk from eBay sellers.)
Preparing Stock
So with all these items, you are ready to start making up a base stock for your shop. I would recommend having at least 10 items to put up in your shop. For choosing what to make, if you don't already have an idea, I will be writing an article soon on finding your niche. Until then learn how to use polymer clay by using Youtube or by finding things and ideas on Pinterest. Lets move on once you have some stock to sell!
HunkiiDorii
on Etsy makes little polymer clay houses or pretty dangly leaf earrings.
They are both very unique and special.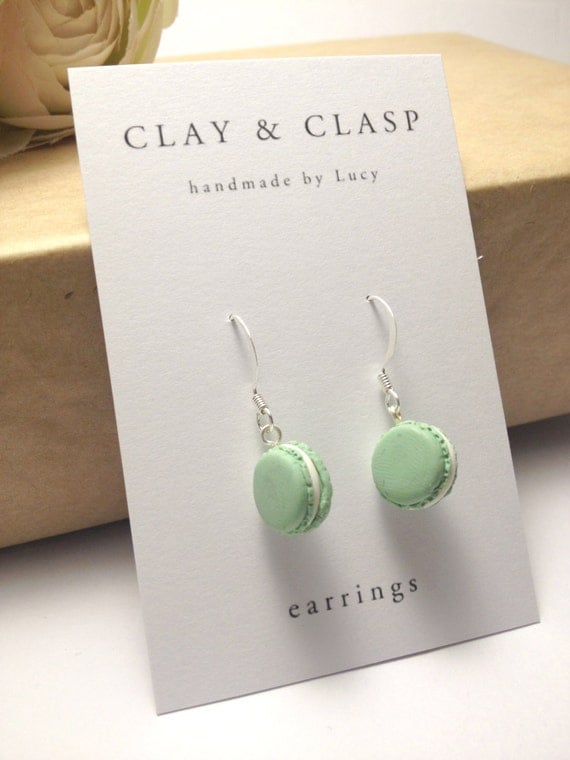 Clay and Clasp
on Etsy sells very sweet earrings shaped as treats and other cute things.
(For beginning to work with polymer clay, I will also be writing an article soon that shows you how you can jump in and just use items from around your home so you don't have to buy any expensive specialist items - or anything more than just what you really need!)
Photographs
The next step is to photograph your items. Having good photos is hugely important to success on Etsy - it's the first thing your customers will see! You have to make people notice your item as something they might like to buy.
Etsy allows you to have 5 pictures per item. Use natural light, and try to have one picture showing scale. Touch up the photos by increasing their brightness, contrast, and perhaps warmth or sharpness, using
www.photobucket.com
.
Opening Your Shop
Opening an Etsy shop is really straightforward - don't be scared! Register and play around. Click on 'add new listing' to put items in your shop. Create one and copy the listing if this is easier, altering it and changing the name and photos for your item. Take care in decribing your item. Don't write an essay, but a cheerful and helpful description of your item that tells the customer everything they might want to know about the item.
For search words, type in phrases you imagine someone would use to search for your item and similar items. For example, for my Antique Bookshelf Necklace I might use:
bookshelf necklace, antique, old books, book jewellery, miniature book, gift for teacher, librarian, author...
Pricing
Knowing at what price to set your item takes a bit of research - look around and see what similar items are set at on Etsy. What would you consider paying for your items? Think about what price a customer who liked your earrings would think was a fair price - and what would turn them off? A big mistake is to set your price too low. If you set a confident price your item will be more appealing. Too low makes it look like it's not that special.
Here is an article
I wrote earlier this year on pricing handmade items.
Each listing on Etsy costs .20 cents USD, so if you upload 10 items, that is £1.24 we can add to our total cost so far, bringing it to £29.18. We're still under £30!
Next Steps
That's it, you've opened shop! Now is the time to think about marketing - social media, refining your search words, connecting with other sellers, making your own blog, refining your brand... you may want to read my article
"Unique, Cheapest or Best: my 3 rules for success on Etsy"
, or stay tuned to Coryographies' blog where I'll be writing more on this topic. Feel free to leave me a comment on anything you would like us to concentrate on, or any questions you have!