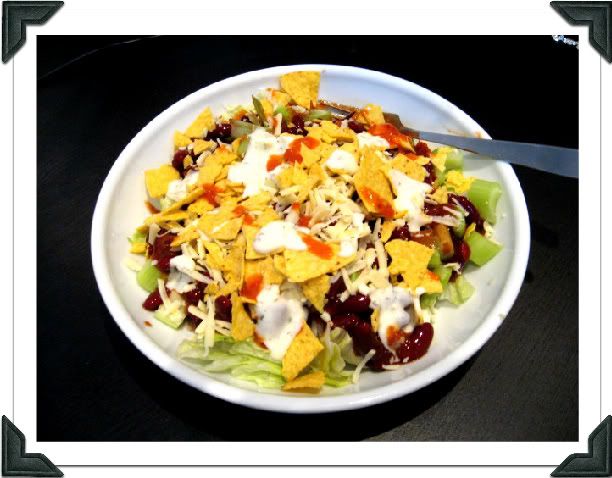 This ain't no wimpy salad...
If you're looking for a delicious lunchtime salad that doesn't leave you hungry for more or feeling like you just ate a bunch of water, here is a flavourful and yummy salad that I've been eating for years when I don't feel I'm getting enough greens.
Ingredients:
Iceberg lettuce
Cucumber
Kidney beans in chilli sauce
Cheddar cheese (mature is best!)
Tortilla chips
Ranch Dressing
Now it's not the healthiest salad (it's a bit high on the salt content), nor the least fattening, so if you're looking for a 'diet' salad you may want to alter this one a bit. But it really is supremely delicious. Start by tearing up the iceberg lettuce and sprinkling over a lot of bite size chunks of cucumber. I ran out of cucumber when I went to make this so I substituted celery, and tomato is also nice. Then liberally spoon over the kidney beans. When I lived in Canada I used Heinz Chili Style Beans, but in the UK there is a Sainsbury's brand that does nicely. Next crunch and crumple over with the tortilla chips. Salted ones taste that much better, but you can do without the extra salt if you're so inclined. Then grate a bit of mature cheddar cheese. Then, if you can find any (it's rare in the UK!), pour on a few tablespoons' worth of ranch dressing. If you can't find any ranch at the shops, you can substitute and creamy dressing types - creamy garlic, blue cheese, or ceasar. Don't add too much though, or it all gets a bit too salty.
Voila! When the ranch dressing marries with the chili beans sauce, the taste is amazing. And if you want to add even more flavour, this salad is good spicy: you can add a bit of hot sauce, or even a few spoonfuls of salsa! Delicious and filling!