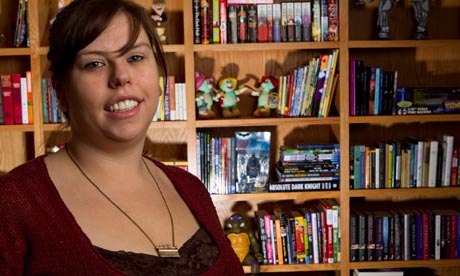 As a person new to the self-employed game, coming across
this article in The Guardian
was both exciting and inspiring. I'm not hoping to sell 1.5 million bookshelf necklaces (I think my fingers would fall off), but it's so motivating to read that people really can make their way doing something creative that they love.
Amanda Hocker is an author of teen fiction, and struggled to get her work published for years. Then, needing some extra cash, she published her work online through Amazon, and other similar online publishing sites that made her novels available for download on various e-readers for a few dollars. They turned out to be extremely successful, and Amanda was able to quit her day job and turn to writing full time!
New technology like e-readers and being able to self-publish digitally online has really changed the way authors can make their work available to the world - just like online craft sites like Etsy, have helped crafy people like me get into the business! I really enjoyed this article and hearing about Amanda's successes. I can only wish for half that success myself, and I'll be more than pleased...