I have a new giveaway, with a brand new necklace design! This next month, enter to win my Pride and Prejudice Bookshelf Necklace: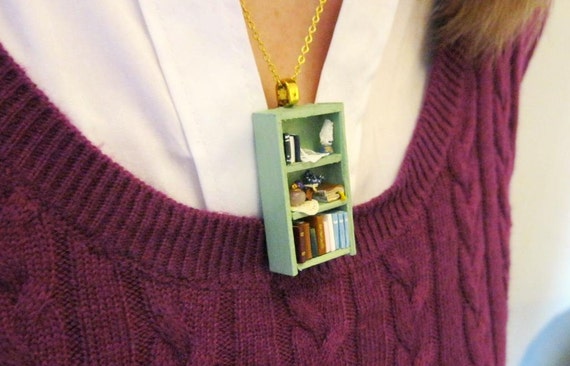 It's a pretty sage green, with a quill and ink and sheets of note paper on the top shelf, and a little perfume bottle on a lace doily, as well as a bookmarked book with a bundle of lavender sitting on it on the middle shelf. I also accented it with gold paint, and a gold plated chain. Very Pride and Prejudice feeling! Perfect for any Jane Austin fan!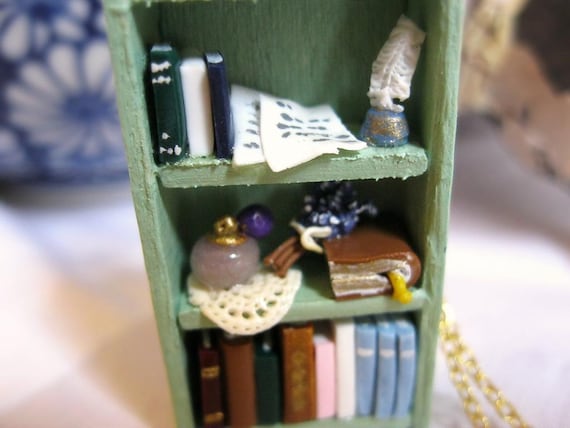 This necklace actually began as a custom design I created with a customer - but I love it so much, I'm making it a permanent design! We were trying to design a bookshelf necklace with romantic Victorian or Regency elements, and this is what resulted :)
The giveaway will run from today until June 12th. I'll contact you through one of the mediums you entered by (Facebook, Twitter, email...) and post you your prize at no cost to you. Open to everyone, anywhere in the world!
Enter here (click on the entries if you need more information):
a Rafflecopter giveaway
Or, if you don't like your chances, you can purchase one here:
https://www.etsy.com/uk/listing/130583206/pride-and-prejudice-bookshelf-necklace?ref=shop_home_active